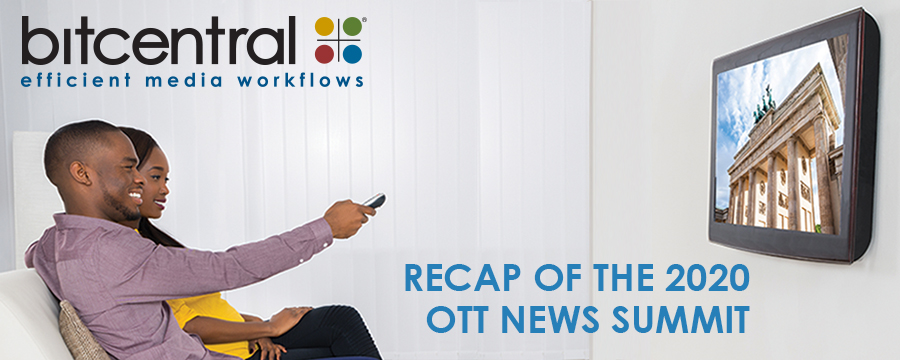 A Bitcentral Sponsored Event
This year's virtual OTT News Summit focused on the emerging strategies news organizations are employing to be successful on OTT platforms. Sponsored by Bitcentral, the event was full of insights and exciting panels featuring leaders from Nexstar, Newsy, CBS Local Digital, Bitcentral, and many more.
Our top 5 takeaways from TVNewsCheck's 2020 OTT News Summit:
1. Broadcasters have an urgent need to align their operations with the preferences of viewers today. OTT and online video need to be implemented in a way that maximizes viewership and revenue.
2. The key to audience development comes from immediate feedback on where the viewers are watching it, and when and where they're dropping off. Those who monitor over the air signals should now also be monitoring OTT. Leverage those insights from monitoring to help understand what viewers want to see with NextGenTV and future innovations.
3. The fragmented media ecosystem has led to a need for simplification, streamlining, and the enablement of monetization.

4. More U.S. households today have a connected TV device and watch streaming video than ever before, while the average time spent on those devices is continuing to increase. It's imperative to focus on the brand and story metadata in order to gain the desired reach. 
5. Look to leverage distribution partnerships and technology to enable your audiences to grow as OTT continues to grow. 
While OTT is such a part of our lives today, we are still in the early stages of this platform. As an industry, we must look at what TV does right, and continue to apply that to the digital streaming and connected TV space. When you streamline technology and have the right processes, workflows, and a defined monetization strategy, you can truly begin to reap the rewards of OTT and digital streaming content.
Bitcentral offers solutions for OTT and digital streaming, widely used by a large portion of news-producing television stations across the country, that will position you for future success. We would love to discuss our proven media solutions with you.
Let's connect today! 
If you want to know more about our solutions for OTT, you can download our brochures below or complete the form to have a Bitcentral representative contact you to schedule a demo.
FUEL is a cloud-based, digital streaming and monetization platform with the longest streaming session duration in the marketplace, generating ten times the ad impressions for broadcasters. You can stream your live newscasts and targeted OnDemand news into a single streaming channel that is presented in a high quality continuous linear format. 
To learn more, download our brochure. 
Core News is a suite of integrated products and services for live news production. Our field-centric workflows, transitions seamlessly into station production and versioning; and simultaneously publishes digital-first and go-live production into local RF, IP, and digital platforms such as OVP, OTT, web, mobile and social media. 
To learn more, download our brochure.